"Do you get off on being selfish?"
Thursdays child has far to go:
Well, back to the ol' post-writing format, in which I post about several days at once and use lines from songs or whatever related to the days. Like this. One day, I'll tire of this format (and another day, I'll finally run out of lines for certain days) and it'll change. Day's not today, though. Thursday was Thanksgiving, which I obviously do not celebrate, and hilariously enough the people who actually do celebrate it do it when it's already Friday here, but as usual, it's the principle of the thing.
So I'm grateful for a roof over my head, people to make me not feel lonely (my cat, especially), the Internet, Chris Colfer's existence, and my sister giving me full permission to take advantage of her Xena: Warrior Princess collection. All of the seasons. Also thankful for her owning it in the first place. Also thankful Easy A is on television right now. Other than that, I think I spent the day whiling away the hours. Those were the good times, don't worry. It's a downward spiral from there.
Fridays child is loving and giving:
Hanna informed me that the Teen Vogue edition with Chris in it is available at Book Xcess. After some initial confusion, I found and purchased it in glee. And then I browsed around and completed the book list I'm supposed to make for the book club to choose from next month. Overall, it was your typical day. So I guess I was wrong. This was also the good times. It's definitely a downward spiral after this, though.
Saturdays child works hard for his living:
Not that I consider getting to meet up with Ellie, Michelle and Mei part of the downward spiral. Hanna was forcefully dragged along (somewhat against her will - but she was rewarded greatly with haikus of my own writing) and Mei thought she was my sister. She said we had the same eyebrows. Michelle's quiet but I get that whole introverted, crippling anxiety for awkward social situations thing and totally didn't think she was being proud or anything. All of that was great. We had a costly lunch, went to the bookshop like the nerdy hipsters we tell ourselves we are and Mei went to Cold Storage to buy an ice-cream. Hanna and I got candy, which I think is only marginally better, the key word being
better
. All of the pictures came out fine with a side of unflattering me, so I could just blur or black out my face or something but I'm short of patience at the moment.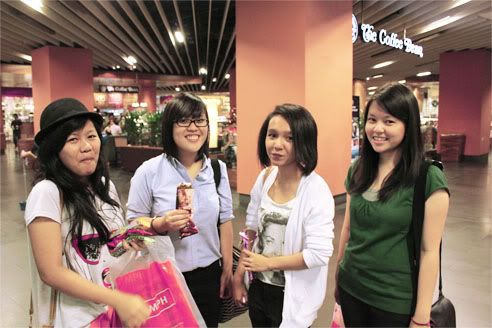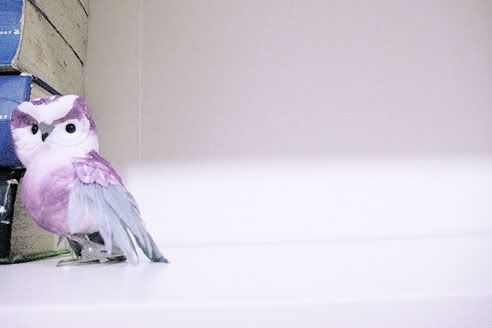 Michelle's owl; another thing I'm thankful for.

Another night, another spiral.
And the child that is born on Sabbath day, is bonny and blithe, and good and gay:
I went to the Big Bad Wolf Aftermath sale which kind of sucked but was exactly how I expected it to be. Sucky. I went with my dad and niece and my dad was hilarious: he bought all the biggest and thickest books he could find (really weird ones, too - I asked him whether he was going to read it and he said he had no idea what to actually do with them) because hell, with everything under five bucks, it was basically a steal (don't worry. Big Bad Wolf's paying me to say all this.) and he even bought a Blackberry for Dummies book for my mother.
I've also been reading Khaos Komix because I couldn't get proper shut eye Saturday night/Sunday morning, so I raided my Bookmarks folder and found this from a few months ago. If you don't mind the gay, Google it and read up. Loving it a lot because I've basically found myself attracted to every single ship in it.
Another night, another spiral. The storm's coming.
"Nope. I get off on not feeling anything at all."