Hey! So obviously my blogging mood is back? Or maybe it's not. It's actually probably not but what you should have noticed and what is a hundred percent very noticeable is the fact that I have Photoshop again! It's not like I fiddle around with the thing a lot, but it's nice to know that if I need a quick coloring or resizing or .gif, it's there to fulfill my needs.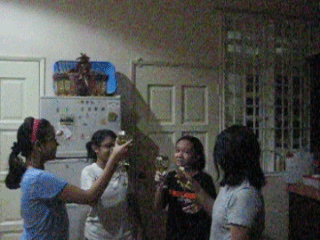 I was really bored yesterday and decided that a new layout was in order. But anyways, isn't that just convenient?
It's been a dull weekend so far. Nothing of particular interest. Just a lot of sleeping going on. Maze was a little too interested in the Royal Wedding for my tastes. He even made sure I capitalized it properly. I put my foot down on italicizing it, though. But it wasn't all that bad. I fell asleep (which was the ending to like each and every weekend story I have) and he bought me chocolate milk. My mother was also enamored, although I don't think that's quite the right word. But then again, when it comes to her obsession with royal people, I don't think there's a boundary to what words I'm allowed to use.
I'm thinking of going magazine shopping since I haven't stocked up my collection full and proper. Maybe later on in the day, if I can get myself to shower. To be honest, it's not that I don't want to study. It's that I tried to study the other day and got so frustrated and depressed, I cried myself twice over and then promptly fell asleep. I know I should find ways to face my shit ass fear of failure but not today. Today I'm just really tired and not in the mood and I want to settle in and snuggle in that stupidly inviting bed of mine and eat a lot and maybe read some fanfic with triple the angst power and cry myself to sleep. Call it PMS, call it a mental disorder, I just want to get my cuddle on with the bed.
Also, I want magazines. So here you go, a useless post about the activities of my weekend, of which they were none.