What happened on Monday evening?
Well, my sister and mother and my niece and nephew went out because my sister wanted to go to this one shop to buy pewter ornaments or something for her host parents for Christmas. We had tea at Secret Recipe and I bought bras! That was so fun. It's probably the first time I went bra-shopping this year. Yeah, I reckon it probably is.
What happened on Tuesday?
Nothing happened on Tuesday as far as I was concerned. Of course, we had practice for Midnight (of course), but we've been pretty toned down lately. No one's worried about anything and we've all been pretty chill. It's fun, actually, it's not a burden at all. We just sit around all session, joking around and talking and practicing. I wanted to finish watching all of S5 of Bones but I only got through with one episode (I'm halfway down the season now) because I was downloading Easy A (which I still haven't watched yet until last night, can you believe that?). Other than that, the day was pretty quiet and kind of sad since I didn't get anything done. Cleaned my room a little bit - if you count picking up everything in my room and putting it in drawers and cupboards and on tabletops without organization. I did, however, had a very spectacular lunch and tea. My parents went out to the immigration place because we're getting a new maid or something and for lunch, they brought home kebabs and for tea, fruit tarts.
Easy A was really, really good. I didn't expect anything much because the movie's almost non-existent on my Tumblr Dash and it's not like my friends talk about quality movies for a living, so I was pleasantly surprised. It reminded me a lot of Band Slam, if only because it's a nice, witty and intelligently comedic teen movie with the presence of both Aly Michalka and Lisa Kudrow (what is up with them, anyway?). I've never (ever) watched Emma Stone in anything before (bring on the insults!) except for a few YouTube interviews and I also know she's going to be in the Spiderman reboot with Andrew Garfield (yay) but other than that, I had no clue if she could act. She can act. And plus, Olive's parents in the movies! Oh, gosh, I just really, really wanted them to be my parents.
Well, I sort of made a promise to myself that this holidays, I'd go out every other day or so and do something touristy (oh my God, is that really a word?) like go to the National Museum or that place with the dome and the park and all the Science stuff. My Dad didn't need convincing. First day of break, he was the one who suggested we go to these museums and stuff in the first place so I didn't even bother telling him about my plan. So today, we went to the Islamic Arts Museum which is located near all of those Deer Parks and Bird Parks and Butterfly Parks and the Planetarium and stuff. My mother didn't want to come with and my sister had gone back home on Monday. My niece and nephew did tag along, though. So who cares if this isn't what a normal 15-year-old (I know I'm fourteen but I don't think 40-something days makes that much of a difference) girl does during school break. I enjoyed myself.
Well, my Dad was being a bit of an a-hole but I think it's just me. I've been picking a lot of pointless fights with my parents lately. Technically, we weren't supposed to:
park in the employees' parking section
take pictures in the museum
and scream and ran around the place
but whatever. Only my nephew did that last one. Nobody really minded that we were taking pictures and stuff. We were so early, there was only like one other person other than us, this European lady who smelled really nice. And afterwards we did bump into some Malaysians and this dark-skinned, definitely non-local people and a bunch of women who spoke only in Indian. Anyways, I've got some pictures, right, and they're not exactly top notch quality because we used our old camera and we didn't have the flash on, so as not to alert the higher powers that we were taking pictures in their museum.
From the pictures I've seen, the front entrance really looks lovely. I wouldn't know, of course, since we entered through a side entrance (what with parking in the employees' space and all of that). The first gallery that we went through was the one which displayed all the mosques from different countries and the different architectural techniques used in building those mosques throughout the centuries. I've been here before, of course, to the museum, when I was younger but I was really young then. I am grateful that my parents (well, my Dad) exposed me to culture earlier on in my life but I hardly doubt I manage to retain any information at all. I probably just acted like my nephew, running around all over the place and screaming his head off. But my niece seemed all into it. She's been a bit freaky lately ever since the holidays kicked up. She's watching all these Chinese cooking shows and goes on YouTube to search for cupcake recipes. She actually seemed interested today, reading all the description plates and all. Out of all, I definitely really loved the Spanish designs. They have all these information written on big white panels on the walls and Iza and I circled around the place, actually reading, while my Dad tried to take some illegal pictures.
The next gallery was filled with Al-Quran versions from different parts of the world. Some countries have these super small Qurans on display and they were so nice to look at and read about but mostly it's just the detail put into every single page. All the flowery drawings and the careful writings and stuff. There were also displays of calligraphy sets and paintings and they have like sections devoted to each important Islamic reigns around the world. Like, the Indian section was devoted to their jewelry and weapons and there was also the Malayan section where they had like life size displays of old Malayan clothes. My personal favourite was the Chinese section because their Qurans were so cute and so were all the designs on their dishes and plates and bowls. And there was like a whole wall devoted to beautiful scrolls. Damn but they were all so beautiful.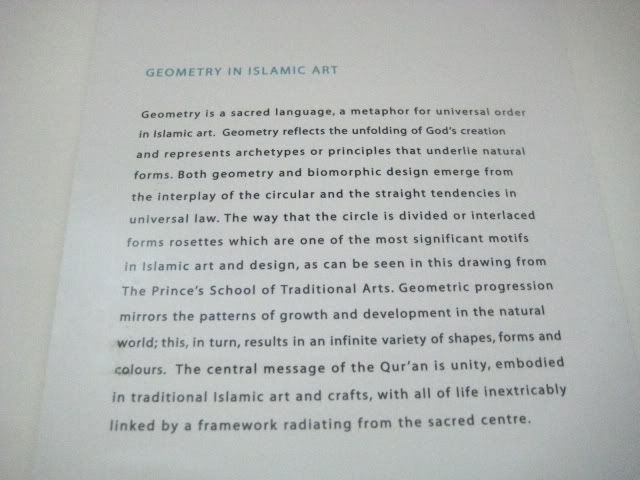 I spent a lot of time in the Geometry section. It was mostly boring stuff you wouldn't want to read about but it was really cool, nonetheless.
Then we went upstairs which was mostly about their lifestyle and clothes of mainly Chinese, Indian and Malayan regions. There was hardly anyone up there except for these janitors who were still wiping the windows and stuff so for the most part, I stuck as close to my family as possible. This was the second last gallery and the best so far because even though I didn't understand the obsession of excessive jewelry AT FIRST, I soon got really into the ideas of how they dressed in those times and let me just say, why can't we dress like they used to? I mean, who cares if they're covered head to foot, it was so spectacular to look at all of the pictures of these women and see life sized dolls of them wearing all these rich clothes. I know only the well-to-be and rich folks wore these but THE JEWELRY! THE FABRICS! THE COLORS! THE LAYERS! They had a lot of gold earrings and headdresses, mostly. I can't remember from where each specific type of jewelry was popularized, but this section was just the bomb.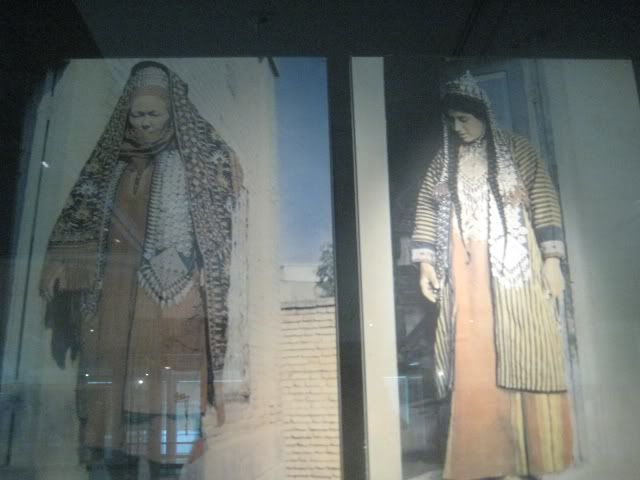 Come on: compare these with the types of clothes we wear today and I can guarantee you, I would choose these as the more beautiful of the two HANDS DOWN.
The last section was all about plates and dishes and stuff. Of course, I fell in love with the Chinese sets because their designs were just indescribably gorgeous.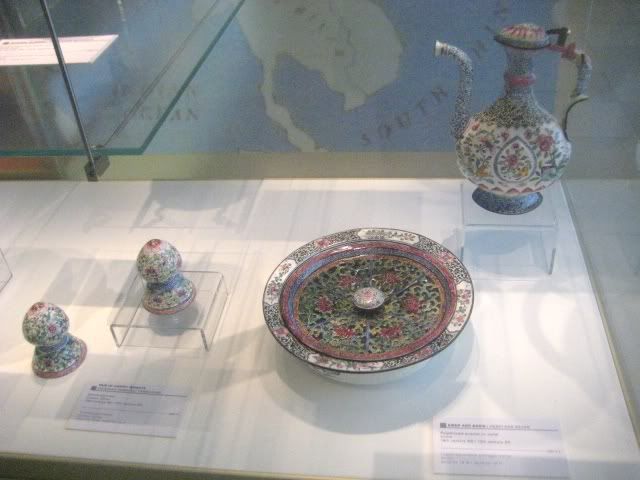 There was also all these glass blown pipes and ornaments and stuff. I forgot where they were from.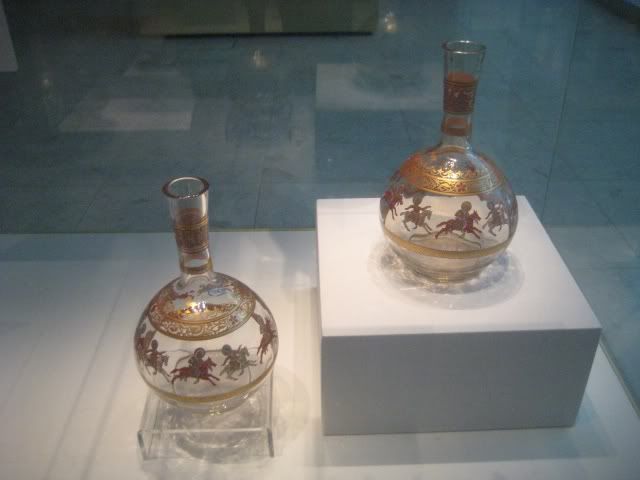 These are from God knows where. I think it was Turkey, but I can't be sure. For all I know, they could be from Egypt. Although, I think it's Turkey. The last one is Chinese. It was surrounded by other gorgeous Chinese glass objects. They were all really well designed and it was literally like a visual orgasm.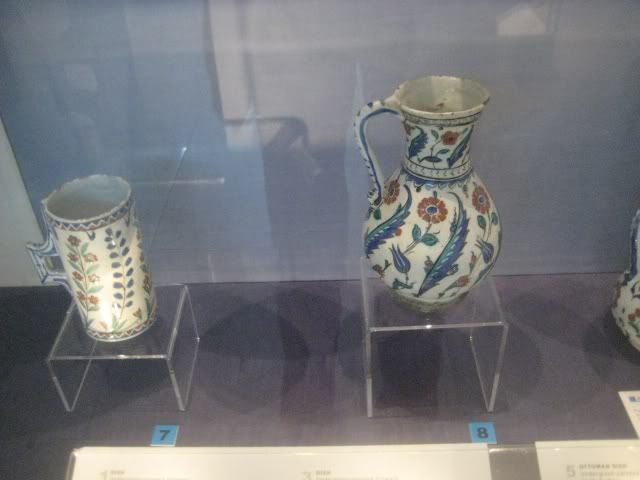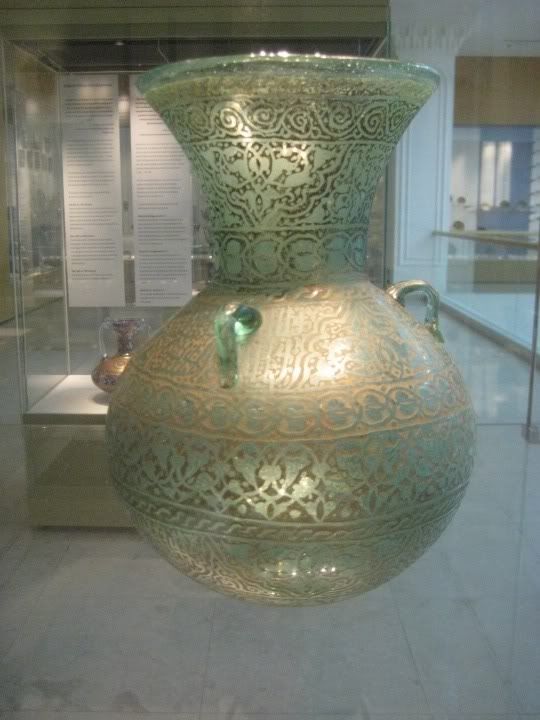 The giftshop was located downstairs. It's really fun just to be inside a giftshop, obviously, and the items are way too overpriced to even consider buying (one book was about RM300) and the restaurant was overpriced, too, so we left to eat somewhere else. My Dad said we could go to Ikea tomorrow. Yay.